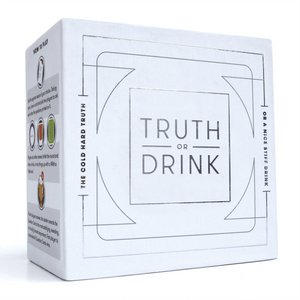 G&S Studios
TRUTH OR DRINK
Regular price
$35.00
$0.00
Unit price
per
We created a set of questions you'd never dare ask out loud. Will you tell the cold hard truth or have a nice stiff drink?
Truth or Drink comes with: 
5 different decks (432 questions on 220 cards + 55 strategy cards):

On the Rocks:

 Chill questions for mixed company – with just the right amount of bite.

Extra Dirty:

 Cringeworthy, adult-themed questions. Definitely NSFW!

Happy Hour:

 Radically affirming questions for when you need a little help being nice.

Last Call:

 

It's getting late and you've got nothing left to lose. Put your relationship to the ultimate test.
With a Twist: Add a zesty squirt of strategy by redirecting, rephrasing, or throwing a wrench into the questions.

All in a very handsome box!
---